12/05/2019 Joyce

Hi!
Do you do private car for Florence too? If not, do you know of companies that you can recommend ?
Here's my review:
We used Giovanni company and we had a wonderful time! Both drivers are very punctual and made sure we are well taken care of. Tony is great! He was like a tour guide, telling us all sorts of interesting information about Italy that we never have otherwise would know. He was a great conversationalist , and we thoroughly enjoyed our rides. Great pricing and great people!
Thanks,
Joyce04/12/2018 Paul & Shiree Roia says:
14/02/2019 CHRIS MAYBEY

Hi Giovanni,
I would just like to say how pleased my son and I were with the service you provided us on our visit to Sorrento and surrounding areas, Joe really enjoyed his 18th birthday.
Very safe driving and prompt pick up times along with your wife Francesca's professional tour of Pompeii and knowledge of the history of Sorrento made this a memorable experience.
We visited far more than we intended to in the short period that we had, this was due to the good planning from your side.
We particularly enjoyed Pompeii, Vesuvius and the drive of Amalfi coast.
Thank you very much
Chris + Joe
04/12/2018 Paul & Shiree Roia says:

04/12/2018  Shiree
Kia ora from New Zealand.

We just wanted to send you an email, thanking you for all your help, and the wonderful service
whilst we were in your lovely country.
We had the most fabulous time, and have come away with wonderful memories.
Thank you for the lovely pottery gift.......
Here are a couple of pics from our trip with you.
All the best to you and your family Giovanni

Love and laughter
Paul & Shiree Roia.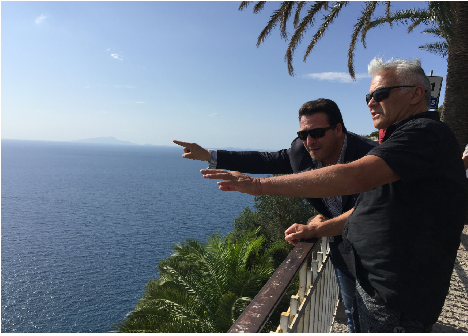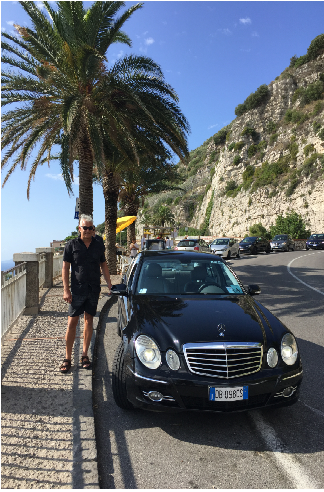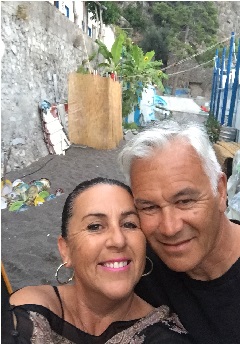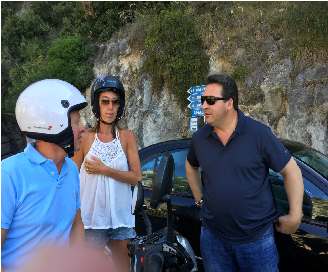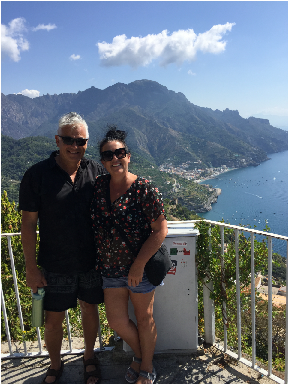 09/11/2018 Deborah Enos says:

I can't thank Francesca and Giovanni enough for their professionalism, knowledge and willingness to fit our needs into their already booked schedules!
Giovanni picked us up at the Naples airport and drove us (expertly) to the Amalfi coast. The roads can be a bit scary (for me anyway) but I felt completely safe at all times with Giovanni. He is an excellent driver and wonderful conversationalist-and bonus, I never got car sick once!
Francesca met us on Sunday morning before our flight and gave us the most amazing tour of Pompeii. It was truly one of the best days of our vacation. Francesca is a wealth of knowledge and we enjoyed every minute with her.
Giovanni & Francesca made our trip to the Amalfi coast even better than we ever imagined.
THANK YOU!
08/09/2018 Elizabeth, Eric, Evan, Elinora and Willa Godfrey says:
Dear Giovanni and Francesca,
We are finally writing to thank you for our time with you this past summer. Eric, the girls and I had the most wonderful visit to Italy.
Giovanni, you made us feel safe in our travels both to and from Positano. Your new van was very spacious and comfortable. As we drove from Naples to Positano and then on our return trip to Rome, you shared a multitude of stories about the towns and sites we were passing, which made our trip that much more special. Our stop for lunch, where you treated us to the most delicious Buffalo mozzarella, was something we will always remember.
Francesca, our tour of Pompeii with you was superb! To walk through the ruins of that beautiful ancient city and learn from you about the people who once lived there, including what their homes and daily lives were like, was fascinating.
We have attached a few photos and want to thank you both very much for the warm welcome you gave our family on our visit.
Grazie mille a lei,
Elizabeth, Eric, Evan, Elinora and Willa Godfrey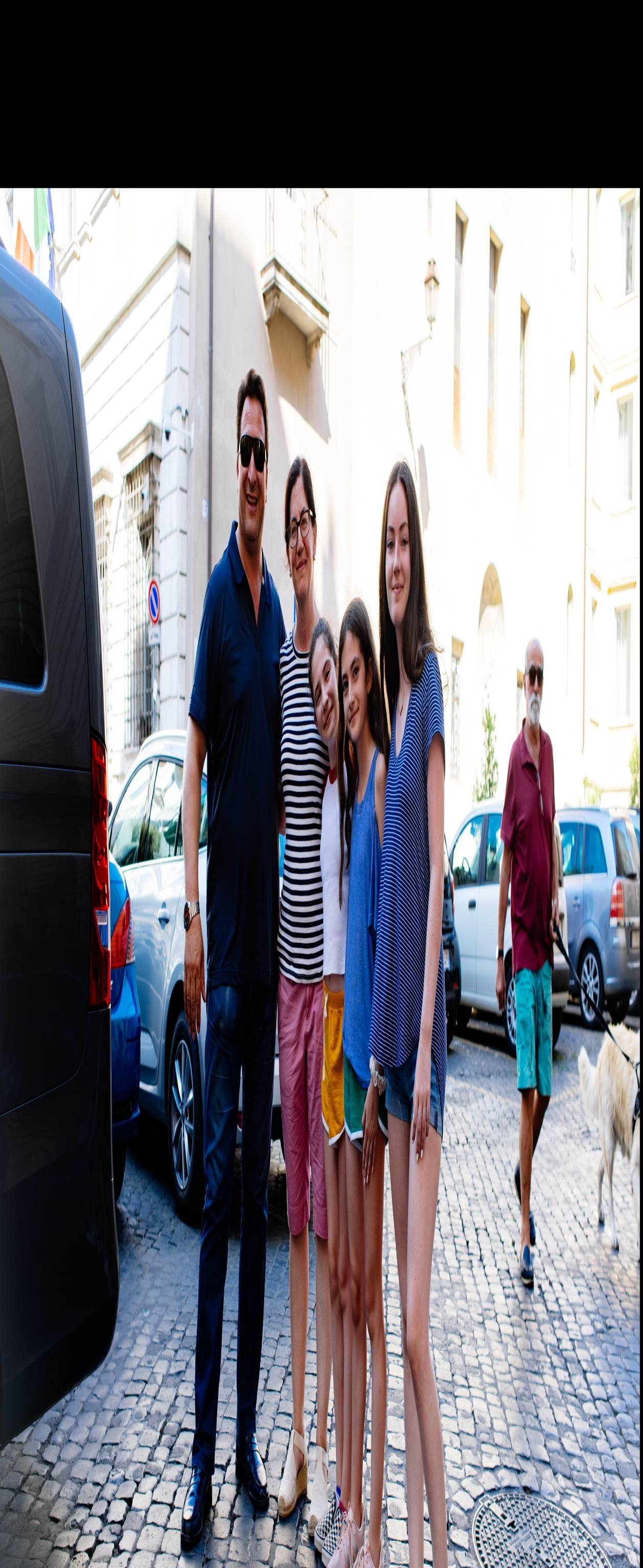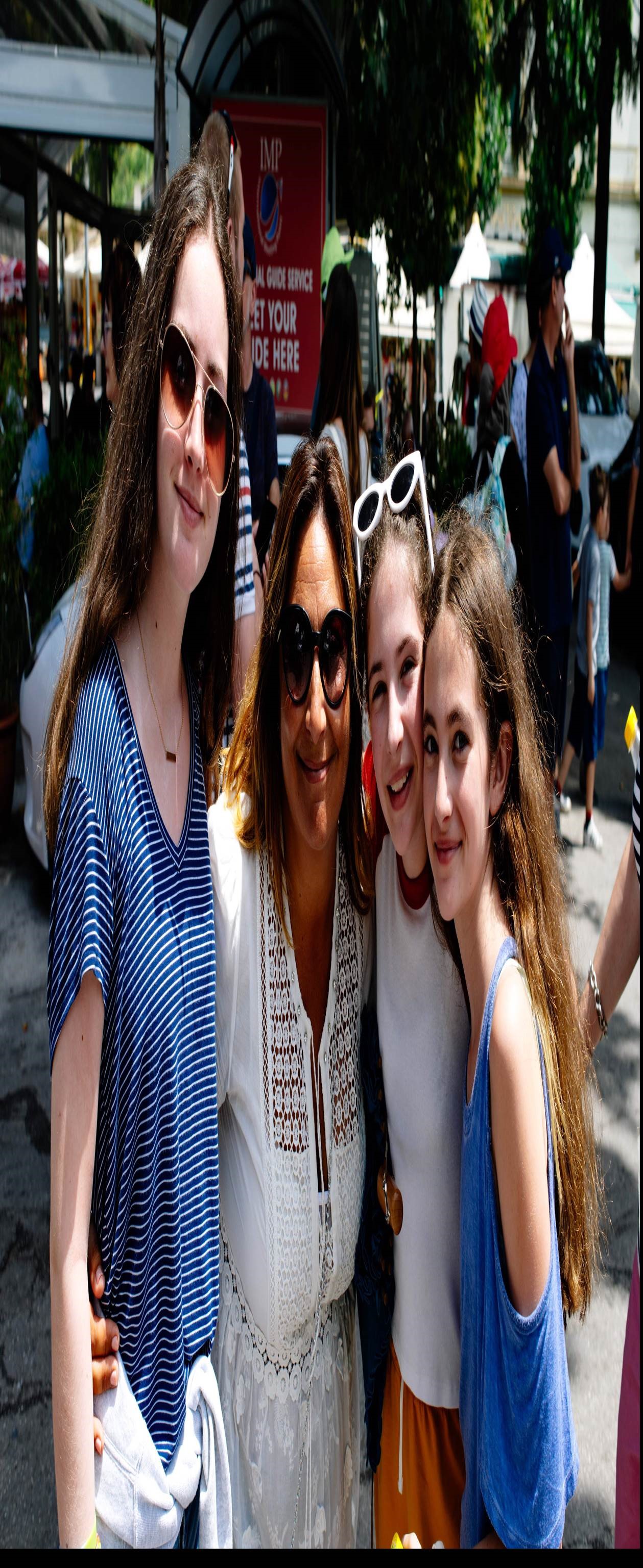 28/06/2018 Tony & Doris Palermo says:
Giovanni and Francesca. They provided all of our transfers and tours. We could not have made a better choice. They are true professionals who love their jobs and are warm and caring people. If you go with them you can be assured that everything will be taken care of. Giovanni picked us up in Rome in a beautiful Mercedes and delighted us with his stories and insights as we traveled. We even stopped for some of the best buffalo mozzarella we have ever tasted. During the week Giovanni was always there with a smile when we needed him. The return to Rome was just as interesting and informative. We can not say enough about Francesca as our tour guide. From Pompei to Vesuvius, Positano, Amalfi and Revello, she made each visit come alive and kept the children amazed with Italy's history and beauty. One of their drivers, Rosario, took us to my father's birthplace where we met with extended family. He went out of his way to help with translations. To sum up, we did not just have drivers and a tour guide. Giovanni and Francesca became friends who we will always remember and cherish and who made this a trip of a lifetime. Tony & Doris Palermo
30/04/2018 Kristen says:
Giovanni is a great driver. His Mercedes  is clean and smooth drive he picked us up promptly at the Naples train station and drove us the back way to Sorrento. He gave us great restaurant recommendations and was knowledgeable about the area in part because he grew up there. His english is great. I would highly recommend him.
Wishing you the best, Kristen
02/08/2017 Mary Meraw (and Paul, Troy and Samantha) says:
Upon a recommendation from a friend, we hired Giovanni and Francesca to escort us in the Sorrento area.   We were met with a very friendly Giovanni at the airport and given a pleasant, interesting and informative ride from the airport to our hotel.   The following day we were greeted again by Giovanni and his wonderful wife and taken to Ercolano and Pompeii.   Had a wonderful day and can't say enough about how wonderful of a tour Francesca gave us of both Ercolano and Pompeii.  People were trying to join our private tour!!   She is amazing with lots of facts.  We enjoyed the day so much with both of them, we asked Francesca to join us on our tour of Ravello, Positano and the Amalfi Coast.  AGAIN, what an amazing day!   Can't say enough about what an amazing driver (calm and in control) Giovanni is.  I was completely relaxed (and I am very bad backseat driver) on the windy, very narrow roads of the Amalfi coast.  We had another awesome and informative day and truly enjoyed spending our day with both Giovanni and Francesca.   They are great people as well as great tour guides.  Very friendly and full of information!   I can't thank them enough for all of their helpful tips, wine, restaurant, gelato suggestions, etc.   Everything was perfect!   We will be back and will definitely use them again but they are now also are friends!   Wouldn't do Sorrento and the surrounding area without them!   Very dependable, informative, interesting and most all friendly hosts!    DON'T GO TO ITALY WITHOUT BOOKING YOUR TOURS WITH GIOVANNI AND FRANCESCA!!
THANK YOU BOTH SO MUCH FOR EVERYTHING!  WE MISS YOU ALREADY!
COME VISIT US IN THE U.S.   We would love to repay you with a tour of DC.
CIAO!
Mary Meraw (and Paul, Troy and Samantha).
04/07/2017 Ramesh says:
Hello Giovanni,
I am very happy with the service received from your company, this was for us a relaxing holiday as not all in our group are fully mobile. As a result we only needed you for pickups and drop off. This was handled very professionally and at a good price compared to quotes using hotel transfer. Will be recommending you to any friends and family needing transfer or other services offered by your company.
Thanks Giovanni.
Ramesh
25/06/2017 Janice, Russ and Christopher says:
Dear Francesca,
Thank you so much for the very informative tour of Pompeii today. The 3 of
us thoroughly enjoyed ourselves. Also, thanks so much for the lunch
suggestion, it was so delicious! Also a special thank you for the ricotta
and tomato salad, very thoughtful of you and so very delicious also.

We would highly recommend you to our friends.

Have a great evening!

Ciao,

Janice, Russ and Christopher
10/08/2016 Barbara Attie and Remy Heymsfeld says:
Our recent trip to the beautiful Amalfi coast was made all the more wonderful by the excellent driving and touring services provided by Giovanni Russo and Francesca Leone. Giovanni picked us up at the Rome airport and drove us to Amalfi and then drove us back to Rome at the end of our trip. Giovanni's English is excellent, and throughout the trip he pointed out interesting sites and provided wonderful anecdotes about life in southern Italy. On the way, he stopped in a region where buffalo are raised where we feasted on buffalo mozzarella and tomatoes. Francesca is a certified guide and we spent one fascinating day with her touring Pompeii and Sorrento. Giovanni and Francesca were prompt, reliable, and gracious. Giovanni is easy to communicate with via email and responds quickly to inquiries. It was delightful to spend time with them and we would recommend them most highly to anyone traveling to Italy.  We will definitely use their services again the next time we're in Italy
12/16/2014 T K says:
Thank you so much for two perfect transfers! The driver was on time, professional and excellent driver. It was such a relief for us to walk out and has them waiting for us. Thank you for a wonderful experience on our Italian vacation. We will definitely recommend you and use your services again when we return someday. Thanks
10/14/2014 M M says:
It was very nice to have an English speaking driver as he was able to point out the places of interest on our way as well as some of the local history. We have just arrived home to Canada and will certainly recommend your company to any of our friends and family who will be traveling to Sorrento. Thank you
10/06/2014 T M says:
The entire experience was excellent. The driver was waiting for us when we arrived at the Naples seaport and dropped us off at Sorrento, a comfortable and relaxing ride. The driver's English was excellent and he was courteous.
09/11/2014 K L says:
Hello Giovanni and Francesca,
thank you again for your prompt, reliable service, and impressive driving skills through the congested traffic and narrow streets surrounding our destination. We have booked Russoleone on several occasions and no longer worry about our transfers when traveling to Sorrento. See you next trip
09/01/2014 J K says:
Excellent service from your driver, Giovanni. We will be sure to recommend your company to others and will use again when we are in Italy in the future. Thank you!!
08/22/2014 M M says:
Our Driver was fantastic! Pleasant, professional, punctual, delightful. We will definitely use your services again and recommend your services to others. Thank you Russoleone
08/21/2014 G G says:
We used Russoleone for four transfers, the tour into Sorrento from the Naples airport, then from Sorrento to Naples port for a cruise, again from the port to Pompeii where the guide Francesca told us the wonderful story of this place and finally back to the airport. In all four transfers the driver was there on time, and the transfers were effortless. The driver was courteous and had lots of tips for us. We spent a lovely day at the coast thanks to the tip from the driver who dropped us off at the airport. I would not hesitate to recommend russoleone to my friends and family. Thank you Giovanni and Francesca you are mythical.
08/21/2014 K M says:
We were very pleased with our service from Russoleone car service Sorrento . We used them three times during our recent trip to sorrento. We were picked up from the Rome airport and driven to our hotel in Sorrento. Then we were picked up from our hotel and driven to Sorrento port for our cruise and then we used them again to be transferred back to the airport. Each time the driver was there waiting for us, he was friendly and courteous and made the drive very enjoyable. We would highly recommend them to anyone traveling to Sorrento.
08/18/2014 M M says:
When we arrived we were met with a smile and a friendly face. On our journey to our hotel the driver was telling us all about the land marks as we passed them. A brilliant service . We thank you and shall use you again and recommend you to others. Thanks Russoleone